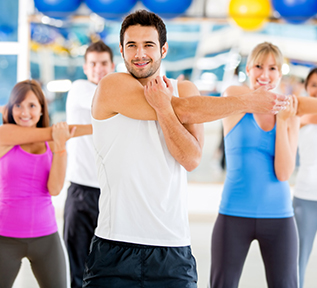 Exercise in the work place is good for your employees!
Too busy or too plain tired to exercise after you get home from work? More and more businesses are offering a variety of wellness programmes in the workplace as a way to help employees stay fit, healthy and not least of all happy.
If you are an employee and would love have the opportunity to exercise in your workplace at lunch time or after working hours simply talk to your employer and colleagues and ask them to take an interest. You will need 8 to 10 participants to implement our exercise in the workplace programme in Dublin.
Encouraging employees to embrace fitness as a lifestyle choice pays off in numerous ways!
Why choose to exercise in the workplace with All Fitness Dublin?
Fit employees generally have a more positive attitude in work. They are less likely to get sick, their concentration is improved after each fitness session which helps them stay focused on their task.
Participating in an exercise programme can give employees a boost in confidence and energy and improve their ability to reason and make decisions, resulting in better job performance and more productivity, which in turn leads to an increased sense of achievement and satisfaction.
A really good bond is also formed between the personnel, they learn to work better together as a team.
Whether you are an employer or an employee, you can benefit from introducing an exercise programme in your work place. At All Fitness Dublin, we've seen several businesses take this step and experience great results.
To know more about the Exercise in the Workplace in Dublin don't hesitate to call us at All Fitness Dublin, the number is 086 37 33 615. You can also send us an email at info@allfitnessdublin.com.