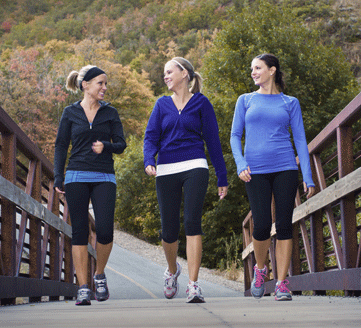 Take the first step and join All Fitness Dublin Walking Group Today!
Walking is one of the easiest ways to get active and stay healthy. Many Doctors and Health professionals recommend walking every day, even a 10 minute has great benefits.
When you are walking you are effectively increasing the flow of nutrients and oxygen throughout your entire body including the brain.
Here at All Fitness Dublin, we understand that It can be difficult to encourage yourself to go for a walk alone, that's why we started this walking group in Glasnevin and Drumcondra in 2005. We want to help you (whether you are a member or not) stay motivated and fit.
Our walking coach will welcome you on these walks and offer you a sociable environment to exercise and improve your health while exploring your local area. The walks are taken at a moderate pace and last approximatively 1 hour. They are taking place in Glasnevin and Drumcondra during week days at day time and evening time all depending on weather conditions.
Schedule for walks will be posted on Facebook on a weekly basis and members will be informed during the classes. Non-members are also welcome to join our All Fitness Dublin walking group.
Benefits of All Fitness Dublin Walking Group:
Walking offers many great health benefits, It's good for your body and it's good for your mind.
It's a great cardio workout that makes your heart stronger, it lowers your blood pressure, your sugar levels and can help you shed a few pounds. Increased oxygen flow to the brain due to aerobic exercise may delay the onset and progression of degenerative mental diseases like Alzheimer's and dementia. Studies of senior citizens who walk regularly showed significant improvement in memory skills compared to sedentary elderly people.
Stroke risk was cut by 57% in people who walked as little as 20 minutes a day.
Walking also helps you build strength in the lower body and core. It's an excellent way to release stress and clear your head. Taking regular walks with us will give you exposure to much needed vitamin D, help you experience better sleep and boost your mood.
It is an ideal type of exercise when you are just getting started. After your walk with us, we promise you will feel more active and confident and think more positively.
It is easy and cheap, all you need is a good pair of walking shoes and
Just put one foot in front of the other…
To know more about our Walking Group in Glasnevin and Drumcondra don't hesitate to call us at All Fitness Dublin, the number is 086 37 33 615. You can also send us an email at info@allfitnessdublin.com.