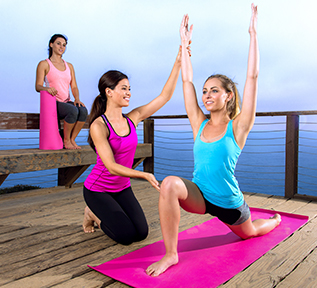 Get Your Health Back on Track with Yoga and Pilates Dublin
This popular low impact Yoga and Pilates workout has been designed by All Fitness Dublin to help you gain strength, flexibility, balance and will also help you to de-stress.
It's a mind, body class using traditional yoga postures, controlled Pilates moves, breathing techniques and structured stretches that will leave you feeling strong, supple, centred and calm.
In this class the atmosphere is jovial and relaxed. You don't have to be flexible to participate and options are given to those who have injuries such as a sore back, knee, neck, etc…
Combining yoga with Pilates is a really great way to get fit as it offers everything that your body and mind need to feel strong.
Benefits of a Yoga, Pilates and relaxation class with All Fitness Dublin:
Physical
Improves your flexibility: Tight muscles can often lead to poor posture and cause pain in the body. Learning to lengthen and relax the muscles will help you to prevent injuries and release aches and pains caused by muscle tension.
Builds muscle strength: Yoga poses can help you build muscle tone in extraordinary ways. In this class, you use your own body weight together with specific Pilates moves to nicely sculpt your entire body.
Improves your balance and posture: Improper alignment can cause strain, poor balance and postural problems. Combining Yoga poses and Pilates moves that are focused on strengthening the core is a good way to improve both balance and posture.
Improves your breathing: Your breath is a powerful tool to help you stay focused and relaxed.
Mental
Relaxes your entire system: Learning to be in the moment and using various relaxation techniques will allow you to completely relax your body and your mind. It will also help you sleep better and feel mentally strong.
Why Choose a Yoga, Pilates and Relaxation class with All fitness Dublin?
If you are not interested in lifting weights to get fit but wish to build up strength, improve flexibility, balance and learn to release stress then this class is ideal for you. It can help you relax and stay focused while gaining flexibility and strength.
To know more about Yoga and Pilates classes in Glasnevin, Dublin don't hesitate to call us. All Fitness Dublin is based in Glasnevin, the number is 086 37 33 615. You can also book a class or send an email at info@allfitnessdublin.com.